Makati Condo For Sale by Megaworld Corporation, the leading real estate developer in the Philippines.
Due to the high demands our current inventory is close to none. Unsurprisingly buyers are diverse, we have foreigners like Chinese, Malaysians, Taiwanese, Americans, etc, and of course locals at the same time. This only shows that investing in a property is always a good move and Makati will be always an option for condo investing.
Currently our pre selling condo projects like San Antonio Residence, The Ellis, and Salcedo SkySuites are 95%, 97% and 98% sold respectively.
We still offer No Down Payment Terms for our pre selling Makati projects for as low as P15,000/month. Megaworld also allows us to customize our payment terms for the convenience of the client with minimal restrictions. Of course we have with down payment and cash term that you can choose from.
Here are the specific type of units that are available for every project:
Studio (28.5 SQM)
1 Bedroom (38 SQM)
3 Bedroom (93 SQM)
Executive Studio Loft (64 SQM)
Executive 2 Bedroom Loft (121.5 SQM)
Executive Studio (50 SQM)
Executive 1 Bedroom (66 SQM)
2 Bedroom (80 SQM)
Project Turnovers
Salcedo SkySuites – 2019
San Antonio Residence – 2021
The Ellis – 2022
All of our projects are fully fitted and comes with different appliance depending on the project.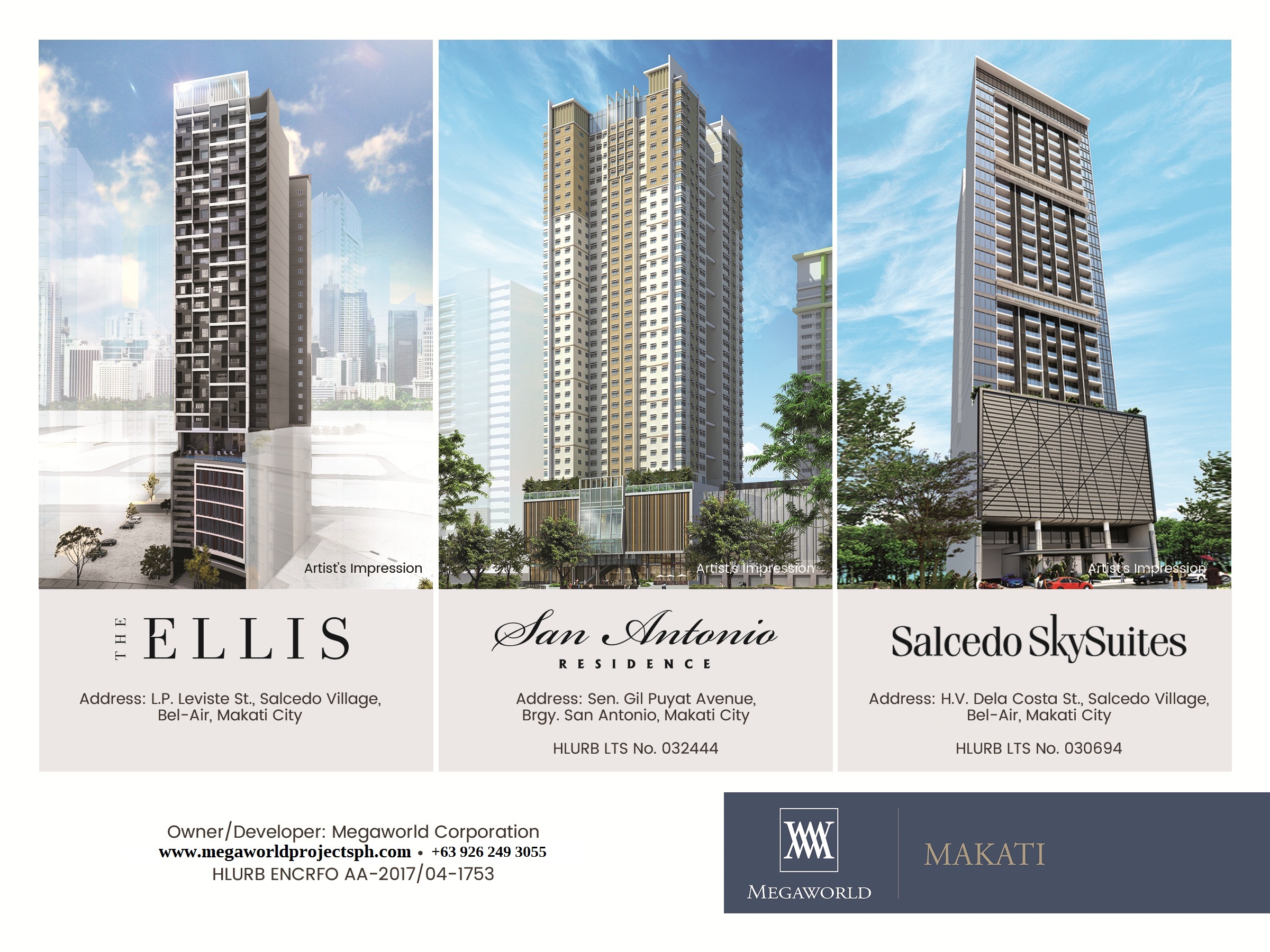 For more details about our makati condo don't hesitate to inquire in this website or call Mr. Jenell de Guzman – 0926 249 3055